Things to do in Sheffield
The Best Restaurants and Bars in Broomhill
Broomhill will be your local street for restaurants, cafes, bars and shops.
Here are our top restaurants, bars and cafes that are 10 minutes from your accommodation at Endcliffe/Ranmoor.
Restaurants
Proove - For all the pizza, garlic bread, dough balls and Nutella calzones. Probably the best pizza ever. They are super reasonable and they even do a £7 lunch deal and take out. You can't miss out on this gem.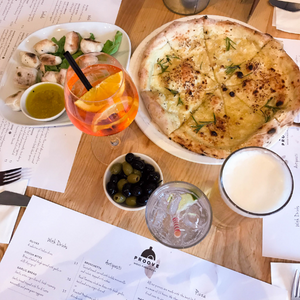 El Toro - Tapas galore. Super authentic, so much choice, so fresh, super student-friendly and very casual.
Butcher and Catch - More of a pricier option, maybe one to take the family when they visit for a more formal meal. That being said, don't miss out on their weekday offers. Steak and Wine Mondays - starting at £10, Tuesday Taster Club - three small plates and a drink for £10, Fish and Fizz Fridays - £12 and Sunday Roasts - from £12.
Thyme - a cafe come restaurant that has something for everyone. Casual vibes with a varied menu. First come first served basis and it gets popular, so make sure you plan ahead if you want to try this one.
Cafes
Ginger - Opened up last Summer and has already become a big hit! Ginger are keen on supplying and promoting independent, local produce and serve a whole range of hot/cold drinks (even wine) as well as a tasty food menu including toasties, bagels, cakes and pastries.
Remos - A small cafe on Fulwood road that offers an all-day breakfast and bistro lunch opens. Great for an all-day breakfast hangover cure.
Cawa Coffee - For all the freshly baked artisan goods, bread, artisan coffees and cool and quirky cafe vibes. The best all day study spot. You need to try their doughnuts.
Five Rivers Coffee - Vietnamese street food cafe. Full of cute lanterns and floor seating. Quirky and a fun one to try with your friends or for a date night. They have two sites, one in Broomhill and one at Cutlery Works in Kelham Island.
Bars/Pubs
The York - Perfect if you're in a big group or looking for some outside space as well as inside space. A beautiful floral bar, very Instagram worthy.
Fox and Duck - A very cool, student-friendly indie bar. They offer student discount with your NUS card too.
The Bloomery - A really cheap and varied all-day menu. They have a whole Vegan menu with tons of options too. This one is also great for large groups and cheap drinks.



Topics